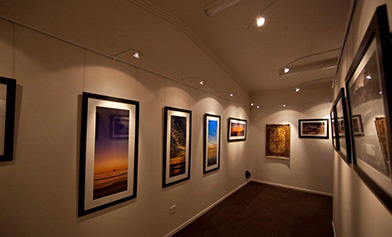 Hang your art as the galleries do……
The Gallery System is our original hanging system, ideal for art galleries, museums, universities and schools. Anywhere really that you have heavier art to hang.  It is a strong and flexible display system that adapts quickly to changing needs.
Hanging art can be a time-consuming business. One of the Gallery System's great advantages is its speed of use, saving you a lot of time and energy.
NEVER BANG ANOTHER NAIL INTO THE WALL EVER AGAIN!
The Gallery System comprises of three main components –
Gallery Track – Screws directly to the wall and is sold as 2m lengths in powder coated white, anodised silver or powder coated your own colour.
Gallery Hangers – Fit into the track and hang neatly down the wall.  We offer a choice of Gallery Stainless Cables, Clearline or Gallery Clear Tape.
Gallery Adjustable Hooks – Thread onto the hangers to hold up your picture.  There is a choice of standard Gallery Allen Key Hooks (suit Gallery Clear Tape or Gallery Stainless Cable), Gallery Push-Button Hooks (suit Gallery Stainless Cable only) or Clearline Push Button Hooks (black) to suit the Clearline.
If your pictures are leaning too far forward why not try the new HangRight Clips.  These clips will work with any of our hanging systems – The Gallery System, Slimline System or Traditional Picture Rail hangers. The HangRight Clips bring your art back closer to the wall for a professional display every time.
The Gallery System has been in use for over 30 years and is sold across the globe.